100-200 Level Courses - Spanish
The Spanish instructors at NC State hope you have a valuable learning experience in the class or classes you take. In order to promote a positive learning environment, we have established a series of policies for the courses. Please read the information on these pages carefully and pay attention to supplementary information that your instructor provides. IMPORTANT NOTE: The information on this page and linked pages constitutes the COURSE SYLLABUS for the courses listed below. As noted above, individual instructors may add supplemental information. You are responsible for understanding and adhering to all policies presented in the syllabus you receive. Schedules are subject to change with adequate notice.
Required Textbook
Spring 2022: FLS 101, 102, 105, 110 and 201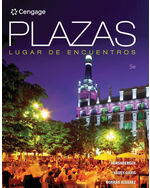 MindTap for Plazas, Cengage Learning 5th Edition, 2019
There are three options:
MindTap Code Only – all electronic, purchase access code at Book Store or Online

Loose-leaf Bundle (LLF print + MindTap Code) – electronic plus a loose-leaf textbook, purchase access code plus loose-leaf book

CENGAGE UNLIMITED – 1 semester (4 months), purchase access code for this book and other Cengage products for one semester, follow instructions to add this book to Cengage account
Very important note: The book in one form or another is required. Students can make the purchase at the NC State bookstore or online. When using the NC State bookstore website, note that options are given and you must choose one. It may not say "Required" as some courses do but it is required.
Cengage representatives will be available for assistance at the bookstore or online at the beginning of the semester. Information is below under Important Notes.
See Important Notes below
Important Notes
The textbook in one form or another

is required. Choices are offered to give students options based on learning preferences and price points but it is required
Purchase your materials as soon as possible. Bookstores do not guarantee to have books in stock

for all students for all courses at all times but the option to purchase electronic access online increases the chance that you can have a book in some form when the semester begins. Bring the book (electronic or traditional) to class each day if your instructor tells you to do so.

Possession/use of an Instructor-Annotated Edition (IAE) of the textbook is a violation of the code of student conduct

for these courses. If you order the hard copy textbook online, be sure that you order and receive the student edition, and that you order it in plenty of time to have it in hand on the first day of classes. If you are sent the IAE edition, return it to the bookseller and exchange it for the correct edition.

Students are cautioned to choose a product carefully

before making a purchase. Some online components offer purchase options of varying lengths. A product cannot be extended free of charge if a student needs access beyond the expiration date.

Students can now consider the Cengage Unlimited option

. It is likely to be the best choice for students whose Cengage materials (for one class or more) cost more than $119.99/semester or $179.99/year. For Spanish, students get the same 4-term access that they get with the 4-term MindTap access code.

If students in FLS classes with Plazas are taking any additional Cengage courses, the Cengage Unlimited subscription is the most affordable option.

Students get access to their Spanish online courseware PLUS access to all Cengage ebooks, any other digital courses they may be taking, and study resources. When their subscription ends they will no longer have access to all Cengage content, but they will still be able to go into their Spanish MindTap accounts for the remainder of their term access. They also get a rental hard copy book for $7.99 + free shipping, for the length of the subscription access. Note that if a student only subscribes to the $119.99 1-semester term, the rental is only for one term. However, students can go to the "Print Options" tab in their Cengage account and see other options for rental/purchase, such as a loose-leaf book they could keep.

Students who choose to use Cengage Unlimited

need to purchase and activate their Cengage Unlimited account first. Once in their dashboard, they should search for "Plazas

5

th

edition

" in the catalog and add MindTap to their dashboard. After it is added to their dashboard, they will click to access it and they will go through the registration process for MindTap

.

Cengage Office Hours via Zoom at the beginning of the semester

Registration, Purchasing Options, and Help Getting Started with MindTap and other Cengage products

Weekdays, August 15th – September 2nd, Noon – 2pm EST
Zoom Link: https://cengage.zoom.us/j/92519812881
Need Assistance outside the Office Hours via Zoom? Reach out to the dedicated Cengage Technical Support Team 1-800-354-9706. Below are a few quick tips for a great experience:
Have your computer up and ready to screen share with the Cengage Technical Support Team
Fill out a support ticket prior to calling in
After your conversation with our Tech Team, you will receive a case number. If you feel your issue was not fully resolved, you may forward that case number to your instructor who will share it with your local Cengage Representative for escalation.